FAQ: Moral Turpitude Crimes That Disqualify Notaries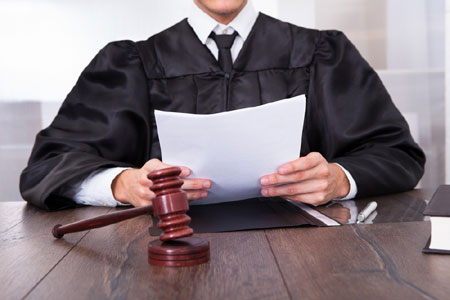 In some states, a conviction for a crime of moral turpitude will prevent a person from getting a Notary commission or result in an existing Notary their commission — but it isn't exactly clear what moral turpitude means. Here are answers to questions Notaries have asked about moral turpitude and offenses that can disqualify a Notary from holding a commission.
What Is 'Moral Turpitude'?
According to Merriam-Webster, "moral turpitude" has two legal meanings:
1.  An act or behavior that gravely violates the sentiment or accepted standard of the community.
2.  A quality of dishonesty or other immorality that is determined by a court to be present in the commission of a criminal offense.
What Do State Notary Laws Say About Moral Turpitude?
Notaries witness the execution of document signings. In general terms, a person cannot be trusted to perform Notary services impartially and honestly if they have been convicted of a crime that involves moral turpitude. In some states persons convicted of crimes of moral turpitude may be disqualified from applying for a Notary commission.
Moral turpitude as applied to Notary laws seldom has an exact definition. It is a concept that gives state commissioning authorities wide flexibility in deciding whether someone should receive or keep a Notary commission.
Not every state lists moral turpitude in its Notary laws as a disqualification for a Notary commission, but many do. North Carolinaauthorizes the Secretary of State to deny a Notary commission to an individual who has been convicted of any crime involving "dishonesty or moral turpitude" (GS 10B-5[d][2]). Arizona disqualifies any person convicted of a crime "involving moral turpitude or of a nature that is incompatible with the duties of a notary public" (ARS 41-330.A.2).
California law states moral turpitude as grounds for the denial, suspension or revocation of a commission (Government Code 8214.1[b]). The California Secretary of State's Notary Public Disciplinary Guidelines lists examples of offenses of moral turpitude that can lead to revocation of a Notary's commission or denial of a commission application. The examples include but are not limited to: assault, arson, auto theft, burglary, possession or sale of illegal drugs, embezzlement, forgery, fraud, failure to pay child support or failure to comply with a court order. The California Supreme Court has handled many cases in which crimes of moral turpitude were at issue. In one case, the Court said, "Although we have variously defined 'moral turpitude' in such broad terms as 'baseness, vileness or depravity'…, we have also decided that the question of whether a conviction involves moral turpitude so as to warrant revocation or suspension of a license to practice a professional cannot be determined in the abstract but depends rather on whether the conviction demonstrates unfitness to practice that profession" (Cartwright v. Board of Chiropractic Examiners, 16 Cal. 3d 762, 548 P.2d 1134, 129 Cal. Rptr. 462, 1976 Cal. LEXIS 258).
Under Texas law, "a crime involving moral turpitude includes dishonesty, fraud, deceit, misrepresentation, deliberate violence, moral depravity, or that reflects adversely on the applicant's honesty, trustworthiness, or fitness as a notary public …" (1 TAC 87.10 [c]). Crimes involving moral turpitude include felony or Class A or B type misdemeanor convictions.
In short, the legal definition of moral turpitude is fuzzy around the edges. It may be hard to define, but it comes into clearer focus when you consider individual offenses that demonstrate the unfitness of the individual to perform official duties, in this case being a Notary Public.
What About Notary Laws In Other States?
States that do not have moral turpitude provisions in their Notary laws may still disqualify persons convicted of certain crimes from serving as Notaries. For example, Floridadisqualifies any Notary commission applicants who have been convicted of a felony unless the applicant has had his or her civil rights restored. Florida Notaries may also have their commissions suspended for fraud, unauthorized practice of law or other types of misconduct (FS 117.01).
David Thun is an Associate Editor at the National Notary Association.