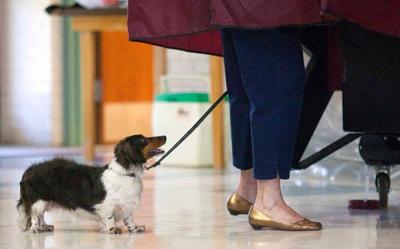 Tim Lentz, who stepped down as Covington police chief last fall to launch his campaign for St. Tammany Parish sheriff, qualified Wednesday, and now the widely anticipated three-person race is a reality.
Randy Smith, who ousted Jack Strain in 2015, is seeking a second term, but it's been clear for more than a year that he would have challengers. Smith and Nick Tranchina qualified Tuesday. All three candidates are Republicans, and all have had ties to the agency.
Elsewhere, the race to replace the term-limited Jack Donahue in Senate District 11 heated up on Wednesday, the second day of qualifying for the Oct. 12 election. State Rep. Reid Falconer, who has been campaigning for the seat for some time, qualified Tuesday. Patrick McMath, who was just re-elected to the Covington City Council as an at-large member this spring, is also running, as is Daniel Ducote. All three are Republicans.
The field for the Division F seat on the 22nd Judicial District bench is continuing to swell, with a fifth candidate, Karen Kovach, qualifying Wednesday. Kovach is the only Democrat in the race, which includes Harold Bartholomew, an assistant district attorney in Warren Montgomery's office; Mandeville City Councilman John Keller; Julie Miramon Knight; and Laurie Pennison.
That race was expected to be a two-person contest between Knight and Jay Adair, another assistant district attorney. But Adair said last week that he was dropping out of the race because of unspecified personal issues.