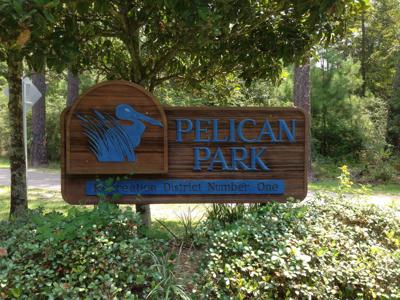 A new bypass road to connect La. 1088 and U.S. 190 and provide a second entrance into Pelican Park has been talked about for years, but St. Tammany Parish officials say that the project is getting closer, with preliminary design work now underway.
Construction on what is known as the Mandeville Bypass road could begin in three years, and the 3½-mile road will take another two years go complete, according to parish spokesman Ronnie Simpson.
The preliminary construction cost estimate is $19 million, but the parish will have a firmer figure for the cost when the project is in the final design phase, he said.
Simpson said that the road, which is in the parish's master plan, will add value to the public.
The parish held an open house last month to update residents on the project, with plans to include a recreational path in the right of way and roundabouts at U.S. 190 and La. 1088.
The bypass will provide a second entrance on the northern end of the sprawling Pelican Park recreational complex, near the batting cages.
Currently the park, which draws 1 million visitors per year, has one entrance, on U.S. 190, and traffic can back up on the highway at times.
Pelican Park Director Kathy Foley said that the roadway has been talked about for 20 years and has the support of the recreation district.
"We're excited that it has a completion time out there," she said.
The project has raised some concerns, however. Under one proposed alignment, the bypass road would connect with La. 1088 at Desert Court in Forest Brook subdivision.
Residents who came to the open house said that they have been assured that the subdivision will get to vote on whether that happens.
"We have worked with the Forest Brook (Homeowners Association) to have them take the lead and conduct a vote of property owners, and the inform Parish Government of their preference," Simpson said in an email. "We will honor their vote."
Simpson pointed out that the plan would provide a second entrance to the subdivision, which now has access only at Forest Brook Boulevard, meaning that residents will "no longer have one way in, one way out access."
Foley noted that people who live in Forest Brook would be able to use the recreational path to reach Pelican Park, with the potential for families to bicycle or walk there.
But some residents are concerned about increased traffic in the area.
"I think it's going to bring too much traffic and the road is going to back up," said Brian Martin, a resident who came to the open house. "There are a lot of little kids in the neighborhood."
Funding for the preliminary design, alignment, final design, land acquisition and permitting is coming from several sources, Simpson said, including the parish's sales tax for roads, mandatory impact fees and the city of Mandeville.